California's Ban on the Sale of Commercially Bred Animals at Pet Stores
March 31, 2020
|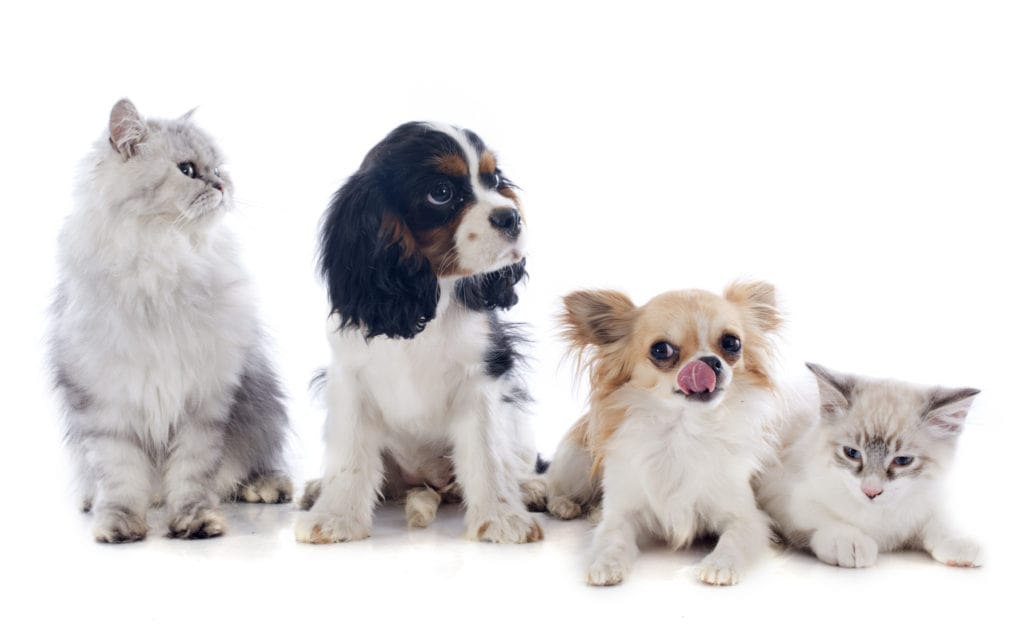 By: Swetha Gopalakrishnan
Starting in January 2019, California became the first US state to ban pet stores from selling dogs, cats, and rabbits purchased from commercial breeding facilities. The Pet Rescue and Adoption Act (AB 485) encourages pet stores to switch to more ethical sources, including public animal agencies or shelters.
The Pet Rescue and Adoption Act (AB 485) was signed into law in 2017 but didn't go into effect until 2019. Specifically, the act bans pet stores from selling animals that come from commercial breeders, and instead encourages them to sell pets from shelters and rescues. Commercial breeders that sold to pet stores often had unsafe conditions including overbreeding, small cages, malnourishment, and early maternal separation. These practices often resulted in long-term medical problems or premature death and contributed to pet overpopulation.
To comply with AB 485, pet stores must now maintain records on the source of each dog, rabbit, or cat for at least one year. Additionally, pet stores must post conspicuous signage near each animal's enclosure that documents the source they came from.
California law already provided minimum standards for the safety, sanitary, and health conditions of commercial breeders (Polanco-Lockyer Pet Breeder Warranty Act of 1995). AB 485 takes protections one step further by cutting off the pipeline of all commercial breeders to pet stores. It is important to note that this law does not affect ethical pet breeders, whose smaller volume allows them to sell directly to pet owners.
Enforcement of AB 485
Many pet stores have embraced AB 45, teaming up with charities and shelters to host in-store adoption events. Pet stores that fail to comply, however, are subject to a $500 fine for each commercially bred animal that they sell. If an individual suspect that they have purchased a commercial pet, they should report the store to animal control and make sure they understand their rights as pet owners.
However, sometimes it can be difficult for pet stores to comply with AB 45's sourcing requirements. Some out-of-state commercial breeders have started to claim their animals are rescues. Commercial breeders may also use illegal means to sell to pet stores and still comply with AB 485 on paper. Both pet store owners and consumers should consult with a trusted attorney to ensure their pets come from legal sources.
Adopting Humanely in California
Consumers should consider the following factors when adopting a pet:
Price: Adopted animals tend to cost a few hundred dollars, mostly covering medical treatments. Large four figure price tags are likely an indication that the store is shopping for pets and not using legitimate rescues.
History: If a store was shopping for pets before the law was passed, they may still be using these methods.
Ownership: Large chain stores face more state and federal scrutiny.
501(c)(3) organizations: A simple web search on the organization should provide information regarding any scandals or investigations that are public record.
Shelters and Adoption Events: The best way to ensure the pet is a rescue is to adopt from the shelter directly.
Pet stores can ensure they are getting pets from reputable sources by:
Working directly with California state animal protection agencies and humane societies
Sourcing animals from reputable nonprofit organizations, choosing in-state options wherever possible
Researching new nonprofit partners online and arranging site visits to ensure safe living conditions
Conclusion
Both pet store owners and consumers should take action to ensure they are supporting humane pet sourcing. Contact a trusted Chugh, LLP attorney for help complying with AB 485, pursuing pet custody rights, and more.

Categories
Corporate Law
Tax
Immigration
Litigation
Family Law
Class Action
Corporate Formation And Formalities
Mergers And Acquisition
Joint Ventures
Employment Law
Real Estate
Intellectual Property
Doing Business In India
Entertainment
Estate Planning
Premarital, Marital And Cohabitation Agreements
Divorce And Legal Separation
Spousal Support / Alimony
Child Custody, Visitation And Parenting Time
Child Support
Government Contract
Corporate Immigration
Employment Based Permanent Residence (green Card)
H-1b Visas For Temporary Workers
Intracompany Transferee Visa (l-1a/l1b)
Tn Visas
Labor Certification And National Interest Waiver
I-9 Compliance
O-1 Visa (individuals Of Extraordinary Ability)
H-2 Visas
B-1 Visa
Family-based Immigration
Permanent Residence
K Visas
International Adoption
Us Citizenship & Naturalization
Investors
Eb-5 Green Card
Treaty Trader Visa E-1
Treaty Investor Visa E-2
Students And Work Authorization
F-1 Student Visa
M-visas
Removal Defense
Victims Of Crime
Vawa
U Visas
T Visas
Other Immigration Categories
International
Landlord & Tenant
Personal Injury
Tax Law
Overseas Education Consultancy
Universal