Choosing a Governing Law for Your Contract
January 08, 2019
|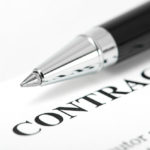 By Parth Jain
It is important to choose a governing law for all contractual relationships. When all parties are from the same state and the contract will be performed there, the choice is simple. However, more business transactions are taking place across borders. In these cases, it is essential to nominate a governing law for the contract and avoid costly legal battles.
How Does Governing Law Impact Contract Enforcement?
All aspects of a contract are anchored in one or more legal systems. Parties are free to choose either one or multiple applicable legal systems for their contract. They could also choose different laws for different aspects of the contract. The governing law of the contract dictates legal requirements such as formation, performance, and termination of the contract.
Additionally, every legal system is likely to have certain provisions that parties cannot eliminate in their contracts. For instance, New York recently banned mandatory arbitration of sexual harassment claims. Any attempt to contractually circumvent such provisions will be disregarded by courts. This can have significant consequences on the substantive rights and obligations of the parties to the contract.
If parties do not specify the governing law, the courts will decide it for them. This can prove to be an expensive and wasteful exercise for the litigants. Parties can easily avoid this problem by expressly stating the governing law in the contract.
How Should you Choose a Governing Law?
Governing law is generally not an issue when all the contractual parties are from the same state, and the contract will be performed within its boundaries. However, things get more complicated in cross-border contracts.
Transaction Type
When choosing a governing law, first consider the type of transaction involved.
For example, in employment contracts, employers are generally concerned about enforcing restrictive agreements like non-compete and non-solicitation. US state laws vary on how easily employers can enforce these restrictions.
Similarly, some state laws have technicalities that complicate commercial transactions. The chosen governing law should facilitate performing the contract rather than impede it.
Party Location
Parties' familiarity with governing law is important. This is influenced by the location of each party, and the place where the contract will be performed.
The relative bargaining power of the parties also plays a role. Generally, the party with more bargaining power may choose the law of their place of business as the governing law and jurisdiction for bringing any claims.
Location of Contract Claims
Finally, parties should choose governing law from the same state where claims under the contract will be brought. This ensures that the courts interpreting and enforcing the contract terms are experienced in applying the parties' chosen law.
Conclusion
The choice of governing law has far-reaching effects on how contracts are enforced. All parties should consult an experienced attorney to ensure they choose the best governing law for their situation. Contact your Chugh, LLP attorney today for guidance.

Categories
Corporate Law
Tax
Immigration
Litigation
Family Law
Class Action
Corporate Formation And Formalities
Mergers And Acquisition
Joint Ventures
Employment Law
Real Estate
Intellectual Property
Doing Business In India
Entertainment
Estate Planning
Premarital, Marital And Cohabitation Agreements
Divorce And Legal Separation
Spousal Support / Alimony
Child Custody, Visitation And Parenting Time
Child Support
Government Contract
Corporate Immigration
Employment Based Permanent Residence (green Card)
H-1b Visas For Temporary Workers
Intracompany Transferee Visa (l-1a/l1b)
Tn Visas
Labor Certification And National Interest Waiver
I-9 Compliance
O-1 Visa (individuals Of Extraordinary Ability)
H-2 Visas
B-1 Visa
Family-based Immigration
Permanent Residence
K Visas
International Adoption
Us Citizenship & Naturalization
Investors
Eb-5 Green Card
Treaty Trader Visa E-1
Treaty Investor Visa E-2
Students And Work Authorization
F-1 Student Visa
M-visas
Removal Defense
Victims Of Crime
Vawa
U Visas
T Visas
Other Immigration Categories
International
Landlord & Tenant
Personal Injury
Tax Law
Overseas Education Consultancy
Universal