How Businesses Can Comply With The Americans With Disabilities Act (ADA)
February 26, 2020
|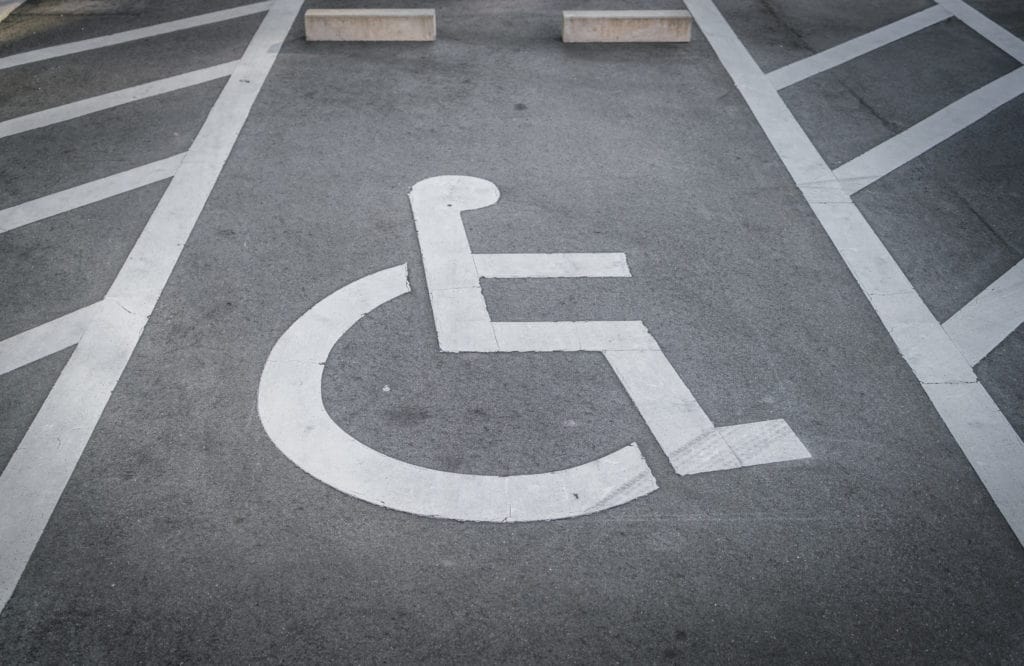 By: Swetha Gopalakrishnan
The Americans with Disabilities Act (ADA) aims to make public spaces more accessible to those with disabilities. Under Title III, individuals with disabilities must be able to fully and equally enjoy public spaces. Businesses are therefore liable to make certain public-facing facilities accessible, and penalties for noncompliance can be costly. It is important to consult with an experienced attorney for help complying with ADA before lawsuits occur.
Complying with ADA Requirements
Under Title III of the Americans with Disabilities Act (ADA), people with disabilities must have full and equal enjoyment of the goods, services, facilities, or accommodations of public spaces. Public spaces include most places of lodging (such as inns and hotels), recreation, transportation, education, dining, stores, care providers, public displays, and websites.1 Anyone who owns, leases, or operates those spaces must make "reasonable accommodations"2 so that their facilities are accessible according to ADA design and construction standards.3
New facilities must be designed to meet modern ADA accessibility standards, with aids for individuals with disabilities.4 Existing buildings should focus on increasing access by removing architectural barriers or adding aids for the disabled.5 Common barriers can be eliminated by building ramps, installing grab bars, lowering telephones, and providing auxiliary aids.
If businesses cannot remove barriers to people with disabilities without too much difficulty and at a minimal cost, they will still be liable for ADA compliance related to those barriers, but those factors will help reduce their damages. Most states consider the following to determine whether a modification is "reasonable" and therefore required under ADA guidelines:
Difficulty of providing additional access or aids
Nature of the modification
Cost of the modification
Overall financial resources of the business
Number of people employed by the business
Impact of the "access" or "aids" on the business's operation
Since businesses interact differently with the public, ADA compliance requirements are highly personalized and can vary widely from one business to the next. Business owners should undergo regular ADA audits from a trusted attorney and ADA inspector to ensure they are up to date with changing regulations.
Liability for ADA Building Violations: Tenant or Landlord?
For businesses with a public brick and mortar, both the landlords who own the buildings and the tenants who operate them are equally liable for ADA accessibility violations.6
Landlords and tenants can adjust responsibility for compliance by changing their lease's public access provisions. However, this is limited by both parties' insurance policies, and liability allocation is only effective between parties. In the event of a lawsuit, both the landlord and tenant are fully liable for ADA Title III compliance, regardless of their lease contract.
Website Access for Customers
The Department of Justice (DOJ) has stated that offsite public accommodations, such as websites, should be accessible.7 DOJ's Web Content Accessibility Guidelines (WCAG)8 are organized around four principles: making websites perceivable, operable, understandable, and robust for impaired users.9 The success of a webpage is measured by WCAG scores (A, AA, and AAA), with A referring to minimum standards. Businesses and their web developers should refer to WCAG for basic and technical guidelines on website accessibility.
Recent case law highlights the uncertainty in standards required for websites. The California District Court dismissed a complaint against a website owner, noting that the DOJ had not yet released rules on ADA accessibility standards for e-commerce webpages.10 However, in a unanimous decision, the Ninth Circuit panel reversed the case and suggested that lower courts could reference WCAG 2.0 guidelines in ADA website cases.11
Additional Disability Regulations in California
In California, the Unruh Act prohibits businesses from discriminating against individuals with disabilities, where the term "discrimination" is broader than the ADA. Two Unruh Act provisions relate to the ADA. First, the Unruh Act requires businesses to comply with laws like the ADA. Second, it states that any violation of the ADA also constitutes a violation of the Unruh Act.12 Violating the ADA in California, and therefore also the Unruh Act, makes businesses liable to pay damages of at least $4,000. Based on the level of violation, courts may award damages for both acts.
The Importance of Compliance: ADA Tester Lawsuits
ADA Tester lawsuits have become commonplace in recent years. A "tester" is a disabled person who travels around the country seeking out businesses that are open to the public and do not comply with the ADA. Their goal is to locate noncompliant businesses and sue them. The remedy they seek is an order (or agreement) to retrofit the property, and attorney fees. Some of these "testers" have filed hundreds of such lawsuits, sometimes thousands of miles away from where they live. Such "tester" plaintiffs and attorneys may work to generate the most money from defendants. Based on the frequency of these lawsuits, it is very important for businesses to comply with ADA rules.
Ideally, businesses should work closely with a trusted attorney and ADA compliance team early to conduct inspections and make necessary changes before a lawsuit is filed. Due to recent trends in litigation, it is highly unlikely that a business can be successful in an ADA lawsuit.
Conclusion
Staying up to date with ADA is extremely important for any business. To avoid a potential lawsuit, businesses should hire an ADA expert and an experienced attorney to review their public-facing property, public access services, and websites to ensure compliance. Additionally, property owners and renters should consult with an attorney to draft favorable contract terms. Contact an experienced Chugh, LLP attorney to help you effectively prevent or respond to ADA lawsuits.
[1] The Department of Justice (DOJ) first published the 1990 ADA Standards for Accessible Design, revised later in 2010.
[2] 42 U.S.C. § 12182(a) (1990)
[3] 42 U.S.C. §§ 12181-12189 (1990)
[4] 42 U.S.C. § 12183(a)(1) (1990)
[5] 42 U.S.C. § 12147(a) (1990); 42 U.S.C. § 12183(9) (1990).
[6] See Nondiscrimination on the Basis of Disability by Public Accommodations and in Commercial Facilities, 28 C.F.R. § 36.201(b) (1992).
[7] Hooks v. OKBridge, Inc. 232 F.3d 208 (5th Cir. 2000).
[8] Advance Notice of Proposed Rulemaking ("ANPRM") on Nondiscrimination on the Basis of Disability; Accessibility of Web Information and Services of State and Local Government Entities and Public Accommodations.
[9] The guidelines are formally known as "Web Content Accessibility Guidelines ("WCAG")"
[10] Robles v. Domino's Pizza LLC, (C.D. Cal., Mar. 20, 2017)
[11] Robles v. Domino's Pizza LLC, 913 F. 3d 898 (9th Cir. 2019)
[12] Civil Code § 51(f)

Categories
Corporate Law
Tax
Immigration
Litigation
Family Law
Class Action
Corporate Formation And Formalities
Mergers And Acquisition
Joint Ventures
Employment Law
Real Estate
Intellectual Property
Doing Business In India
Entertainment
Estate Planning
Premarital, Marital And Cohabitation Agreements
Divorce And Legal Separation
Spousal Support / Alimony
Child Custody, Visitation And Parenting Time
Child Support
Government Contract
Corporate Immigration
Employment Based Permanent Residence (green Card)
H-1b Visas For Temporary Workers
Intracompany Transferee Visa (l-1a/l1b)
Tn Visas
Labor Certification And National Interest Waiver
I-9 Compliance
O-1 Visa (individuals Of Extraordinary Ability)
H-2 Visas
B-1 Visa
Family-based Immigration
Permanent Residence
K Visas
International Adoption
Us Citizenship & Naturalization
Investors
Eb-5 Green Card
Treaty Trader Visa E-1
Treaty Investor Visa E-2
Students And Work Authorization
F-1 Student Visa
M-visas
Removal Defense
Victims Of Crime
Vawa
U Visas
T Visas
Other Immigration Categories
International
Landlord & Tenant
Personal Injury
Tax Law
Overseas Education Consultancy
Universal