International Holiday Travel to the United States: Frequently Asked Questions
December 03, 2021
|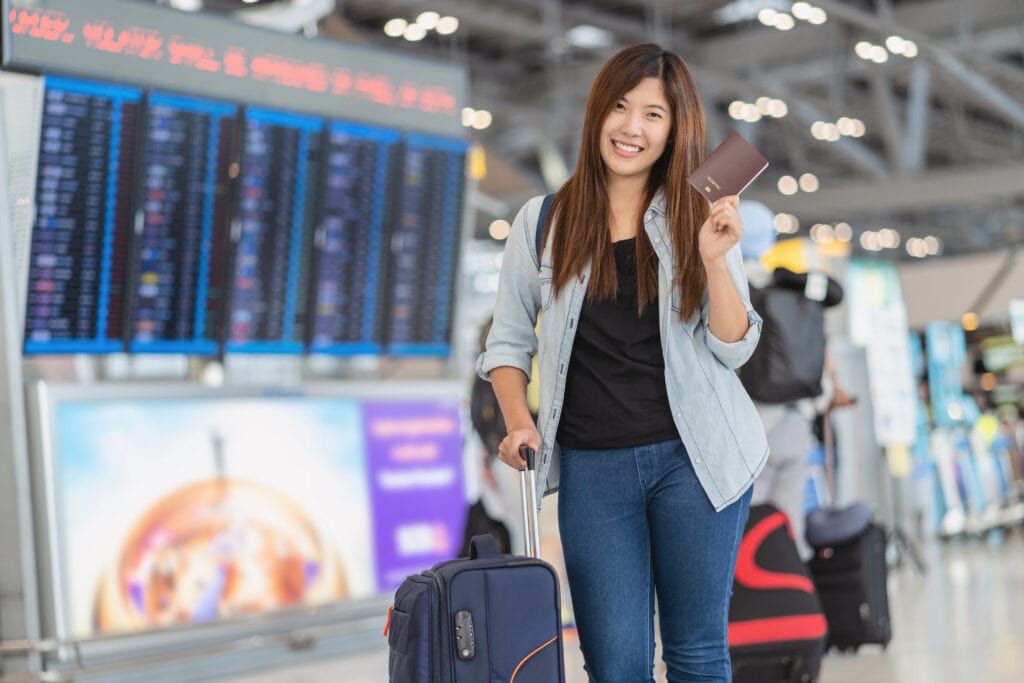 By: Angelita Chavez and Deepika Singh
COVID-19 restrictions will affect international holiday travel to the United States and other countries. It is essential to comply with all applicable rules and regulations to safely reach your destination.
If you need to apply for a US visa abroad, consulate appointments are limited. There may also be delays in the issuance of new visas, and consulate appointments may be canceled due to local COVID-19 risk. All travel documentation must be current to enter or exit the United States.
Travelers should be aware that a new COVID-19 travel ban, effective November 29, 2021, blocks individuals from entering the United States if they have been present in certain southern African countries during the previous 14 days.
Starting December 6, 2021, international travelers must submit a negative COVID-19 test taken within one calendar day of travel. The new policy aims to slow the spread of the Omicron COVID-19 variant, and will apply to all international travelers, including the fully vaccinated and United States Citizens.
what restrictions are in place for my destination country?
Every country has its own list of COVID-19 requirements. Some countries will require proof of vaccination or negative tests, while others have quarantine requirements. COVID-19 policy can change frequently with limited notice. It is recommended all travelers regularly visit the official website for their destination country or contact a trusted immigration specialist prior to travel.
I am returning to the united states by air. what do i need to ensure entry?
All nonimmigrants traveling to the United States by air must comply with vaccine requirements, provide a negative COVID-19 test, and complete a health attestation and contact tracing information. The Centers for Disease Control and Prevention (CDC) has provided additional guidance on rules for international air travel.
US citizens and lawful permanent residents are not required to be fully vaccinated, however they must submit a negative COVID-19 text taken within one day of travel. Residents who are fully vaccinated must submit a negative test within three days of travel.
I am planning to enter the united states across its land or ferry borders. what do i need?
Unvaccinated foreign nationals are not permitted to enter the US for nonessential reasons across its land and ferry borders with Canada and Mexico. In January 2022, even essential foreign national travelers must be vaccinated to enter the US by land or ferry.
Fully vaccinated travelers can travel across land and ferry borders without providing a negative COVID-19 test, even for nonessential purposes.
what are the vaccination requirement exceptions for air travel?
Unvaccinated foreign nationals may travel to the United States if they are eligible for one of the following exemptions:
Minors (18 years of age or under).
Citizens of countries with low vaccine availability, as listed by the CDC.
Humanitarian exemptions.
Emergency exemptions.
COVID-19 trial participants.
Certain air and sea crew members.
US armed forces and their families.
Diplomats and other foreign government officials.
National Interest Exemptions (NIEs).
If you are unsure if you meet these requirements, contact an immigration professional prior to travel. Those who meet any of the above exemptions will be required to submit a negative COVID-19 test taken within one day of travel, and they must meet additional quarantine, vaccination, and testing requirements upon arrival.
which vaccines are approved for travel? how do i prove my vaccination status?
Any vaccination approved by the Food and Drug Administration (FDA) or the World Health Organization (WHO) is acceptable for air, land, and ferry travel. Accepted vaccinations can be found on the CDC website, and include the following as of the date of publication:
AstraZeneca
BIBP/Sinopharm
Covaxin
Covishield
Janssen/Johnson & Johnson
Moderna
Pfizer-BioNTech
Sinovac
An individual is considered fully vaccinated two weeks after they have received the last dose in their vaccine series. The CDC will accept individuals who have received two different vaccine doses if the vaccine doses are received at least 17 days apart and both are approved by the CDC or FDA.
Digital and paper documentation of vaccination status is accepted. Documentation must contain biographical information that match's the individual's travel documents, source of record (such as public health agency or vaccine provider), vaccine manufacturer, and date(s) of vaccination.
I am outside the united states and need to apply for a visa.
Due to COVID-19 restrictions, many consulates are operating at reduced capacity and appointments can be limited. Many consulates are only scheduling appointments for emergency cases, like students, diplomats, and COVID-19-related travel. Appointments may become even more limited with the end of the COVID-19 travel ban.
It is important to be flexible and stay informed of your local office's policies. Review your local US consulate's latest information.
I have a pending application with the united states citizenship and immigration services (uscis). will this affect my travel?
Pending applications with USCIS have different requirements on a case-by-case basis. For more information, please contract an immigration specialist.
what are the quarantine requirements for reentering the united states after international travel?
There are no current general federal requirements for post-travel quarantine, expect in cases of unvaccinated nonimmigrants. While US states can impose their own quarantine requirements, most have not and instead refer travelers to CDC post-travel recommendations. However, state policies can change at any time, so it is important to refer to them before travel and entering the United States.
what travel documentation validity is required?
When traveling internationally, it is critical to make sure all your documents are up to date and valid. Be sure to check expiration dates and visa validity periods.
Passports should be valid for at least six months beyond the expiration of your admission to the United States. To understand whether your passport is valid to return to your country, contact your trusted Chugh, LLP professional.
Visa stamps must be up to date and unexpired to travel. Travelers must obtain Form I-94, and not overstay the date provided on the form. After arriving in the US, obtain a printout of your I-94 from the US Customs and Border Protection (CBP) website. The date on your I-94 electronic record should match the one on your I-94 stamp. Send a copy of your I-94 to your Chugh, LLP immigration professional, and notify them immediately if there are errors in your record.
If your I-94 was issued to your passport expiration date and is due to expire before your nonimmigrant status, you will need to either:
Travel abroad again and present your newly extended passport when you reenter, or
Apply for an I-94 extension with USCIS while in the US.
conclusion
Traveling internationally this holiday season can be complicated. It is critical to ensure that your travel documentation is accurate and has a long enough validity period to cover your travels.
To comply with all applicable immigration laws or for help applying for a visa, contact a trusted Chugh, LLP immigration professional.

Categories
Corporate Law
Tax
Immigration
Litigation
Family Law
Class Action
Corporate Formation And Formalities
Mergers And Acquisition
Joint Ventures
Employment Law
Real Estate
Intellectual Property
Doing Business In India
Entertainment
Estate Planning
Premarital, Marital And Cohabitation Agreements
Divorce And Legal Separation
Spousal Support / Alimony
Child Custody, Visitation And Parenting Time
Child Support
Government Contract
Corporate Immigration
Employment Based Permanent Residence (green Card)
H-1b Visas For Temporary Workers
Intracompany Transferee Visa (l-1a/l1b)
Tn Visas
Labor Certification And National Interest Waiver
I-9 Compliance
O-1 Visa (individuals Of Extraordinary Ability)
H-2 Visas
B-1 Visa
Family-based Immigration
Permanent Residence
K Visas
International Adoption
Us Citizenship & Naturalization
Investors
Eb-5 Green Card
Treaty Trader Visa E-1
Treaty Investor Visa E-2
Students And Work Authorization
F-1 Student Visa
M-visas
Removal Defense
Victims Of Crime
Vawa
U Visas
T Visas
Other Immigration Categories
International
Landlord & Tenant
Personal Injury
Tax Law
Overseas Education Consultancy
Universal